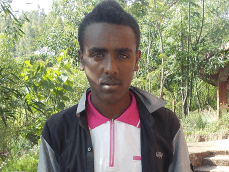 2016 Aged 18
The Lalibelan committee flagged Saleamlak as from a very poor family.
He is an only child, his father died 11 years ago and his mother tries to manage by working as a labourer when the work is available.
He passed grade 10 national exams with great distinction and was first in his class in the grade 11 exams. He is now in grade 12.
It has been agreed to support him with 600 Birr per month.