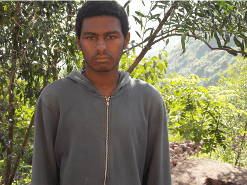 2016 Aged 19
His mother died when he was born and his father died when he was a young child.
He works as a labourer while trying to continue his education.
He reached grade 11 where he was 3rd. in his class. He is now in grade 12.
He has an ambition to be an investigative journalist.
It has been agreed to support him with 600 Birr per month.