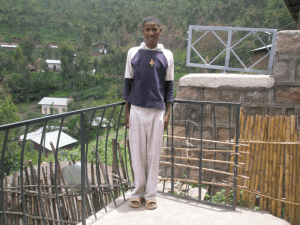 2009 Age 17 years
Getnet is from Lalibela. His father died a long time ago and his mother has been trying to bring up Getnet and his 4 sisters. His mother and the 2 older sisters are illiterate. The 2 younger sisters are attending school. The oldest sister is now divorced and is back living at home with her 5 children.
Getnet, being the only boy, has been taking on responsibility for the family. He has been working as a labourer, in addition to attending school, in order to provide some money for the family.
Getnet has had constant good results from school, but his results from the grade 10 National exams, were disappointing and he just failed getting a place in grade 11. (200 students from 2,000 are allocated places in grade 11). He is still very keen to continue with his education.
It has been agreed to allocate him 500 Birr per month (£25) on 2 conditions. He must enrol and attend a one year course at vocational school. He must resit the grade 10 national exams next June. If he successfully completes the year and gets high enough grades to progress to grade 11 next year, he will be given a bonus of 500Birr.